Everyday carry ( EDC ) or every-day carry are useful items that are consistently carried on person every day.
Just curious what you guys carry everyday. What are the things you always (or most of the time) take with you when you leave the house?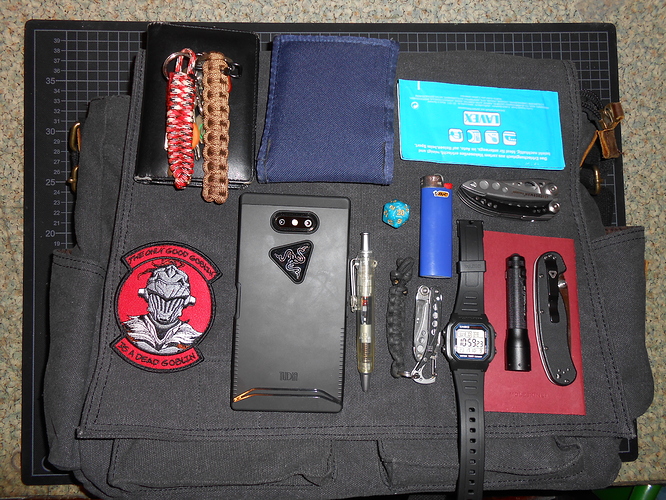 Top
Keys with paracord thingies
card holder
wallet (some old fabric Fila wallet that I've been using for ~15 years now)
wipes
Bottom
Razer Phone 2 (in Tudia Merge case)
Tombow Air-Press pen
d20 die (just as some sort of good luck charm)
Bic lighter
Leatherman Freestyle (for the pliers)
Leatherman Style CS (for the scissors and the small knife)
Casio W800H-1AV
LED Lenser P3
Ontario Rat 2
Moleskin notepad
Cheapo messenger bag with Goblin Slayer patch.
Not shown but inside the bag: 2x packs of paper tissues, 2x bags (1 cloth, 1 plastic), cigarettes.
And during summer I also have a 0.5L plastic bottle with water in the bag.